7 Day Candles in Glass Holders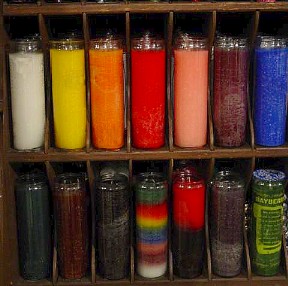 About 7-day Candles
Seven-Day candles are used by parishioners of many faiths as tools for prayer, devotion, ritual, meditation, protection and healing. They are easy to use and well liked because they tend to be safer from fire hazards due to their enclosed nature. They are often used in conjunction with other spiritual products, but many people also use them alone.
Remember that although they are called Seven-Day Jar Candles, the amount of burning time varies. Length of candle burning depends on the energy in the environment where it is burned and what has been added to the candle (such as oils & herbs).
Make sure to keep out of reach of children or pets. Place burning candles in a pot or aluminum tray with sand to avoid any accidents. You may also fill the bathtub or sink with a few inches of water and set the jar candle in the water- this way if there is an earthquake or you have to leave, it will put itself out if it falls over.
We have included on the next page, descriptions/properties of each color using a combination of traditional & modern color charts your intent. Please select the color(s) you need. Remember the most important thing is what "feels right" to you. If you are distracted by the color of your candle- you will not be able to focus well in your work.
All our candles come undressed or "virgin". All candles should be programmed prior to lighting or when relighting by visualizing your intent. If you would like your candles dressed for a small fee please email us.
Check out our Candle FAQ.
Candles ~ 7 Day Candles ~ Pillar & Taper Candles ~ Candle Holders ~ Empowered Candles